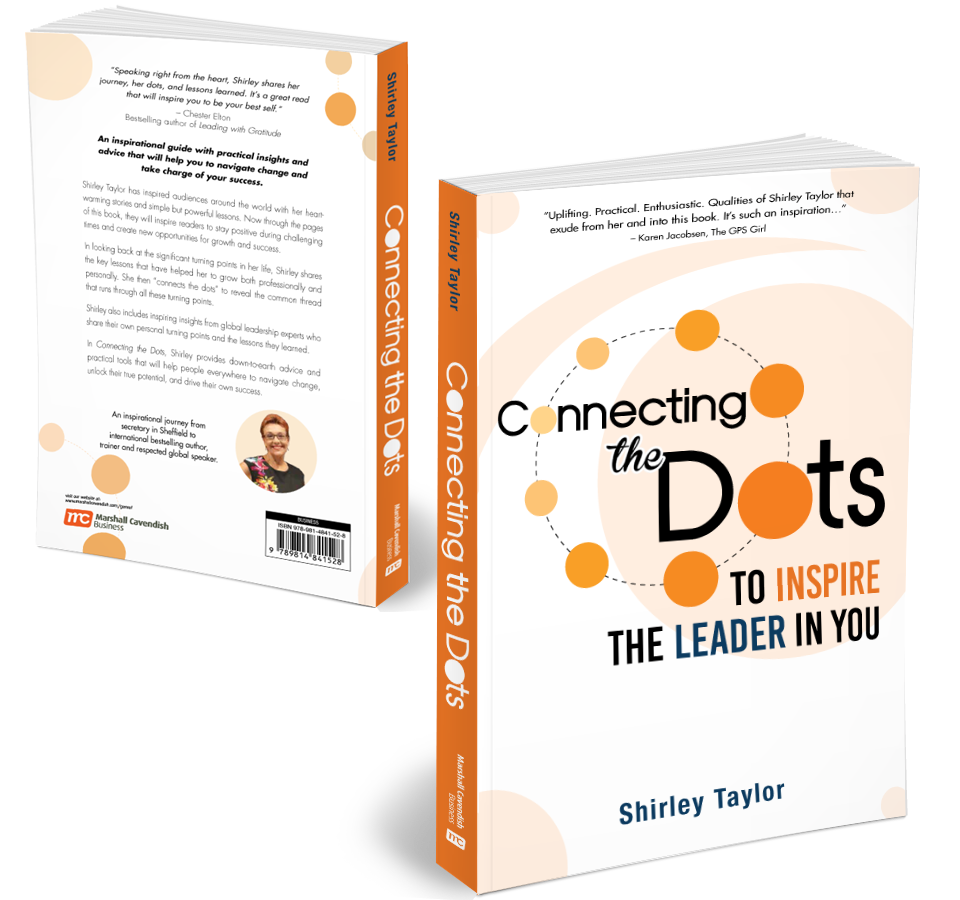 Connecting the Dots to Inspire the Leader in You is an inspirational guide with practical insights and advice that will help you to navigate change and take charge of your own success.
Order your copy of Connecting the Dots from your
preferred retailer
GET YOUR FREE BONUSES
Order today and receive immediate access to these exclusive resources
BONUS 1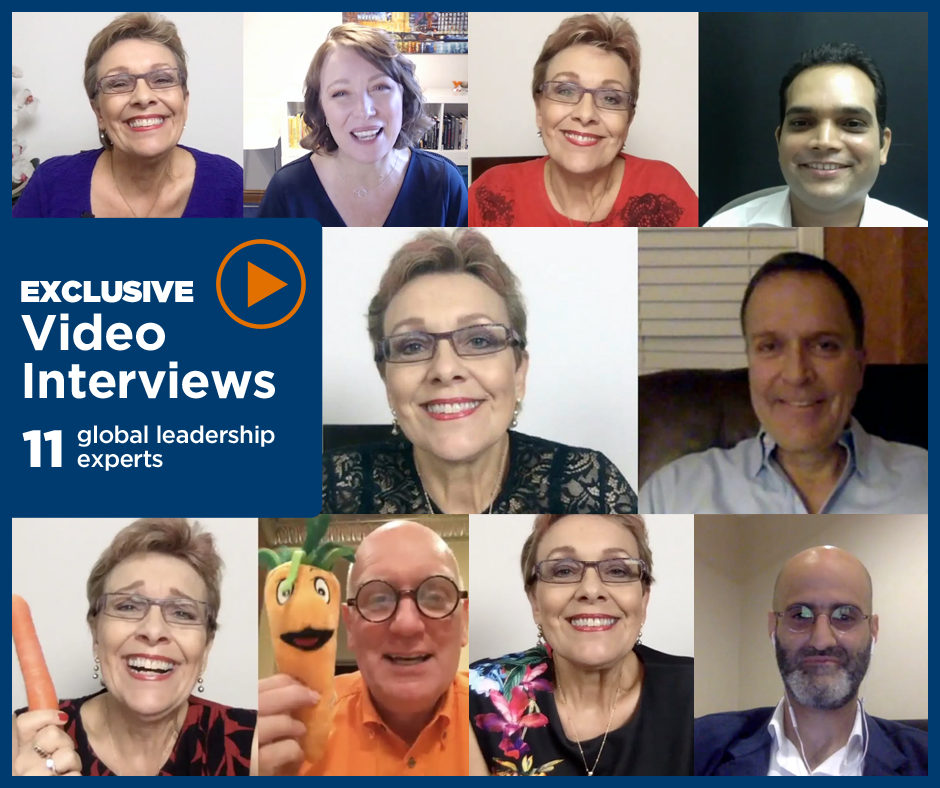 EXCLUSIVE
VIDEO INTERVIEWS
I personally video-interviewed all the global leadership experts featured in Connecting the Dots to Inspire the Leader in You.
In these exclusive interviews, you'll be inspired to learn about the turning points in their lives, and the leadership lessons they learned.
BONUS 2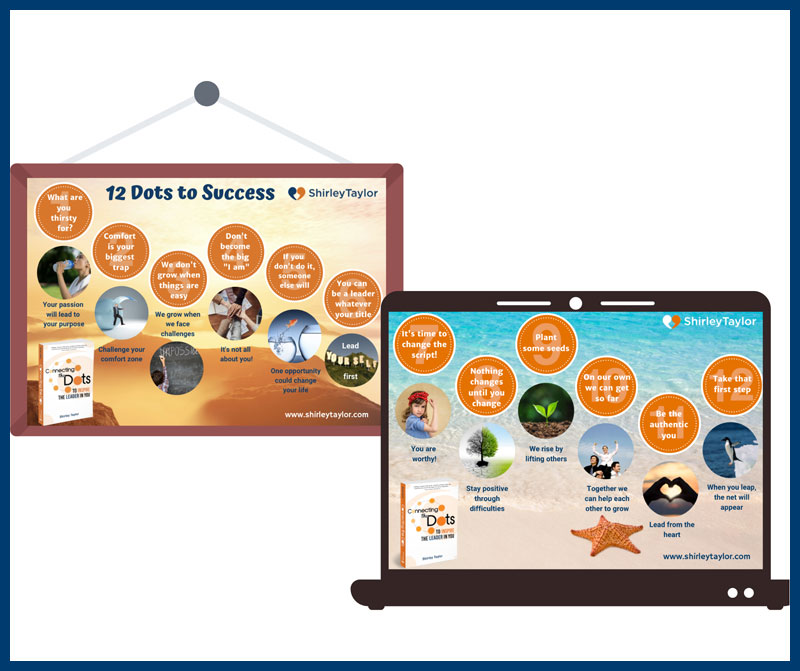 SHIRLEY'S
12 DOTS TO SUCCESS POSTERS
You'll receive not just one but TWO beautiful motivational posters. These contain the 12 key lessons I share in Connecting the Dots.
Print out YOUR 12 Dots to Success motivational posters and stick them on your wall to motivate and inspire you.
Or use one on your computer as a screensaver.
BONUS 3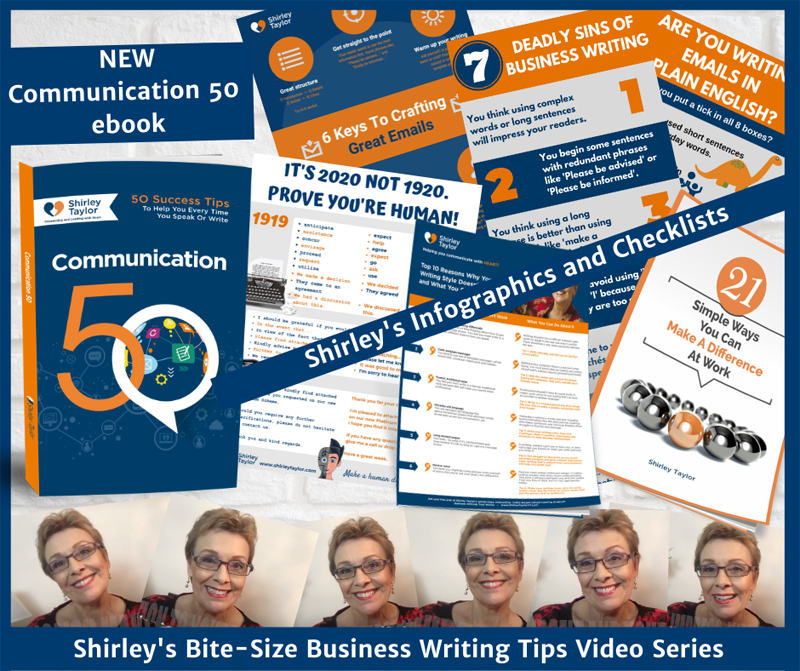 YOUR BUSINESS
WRITING BUNDLE
Every aspiring leader needs to write well. I've packaged together this bumper bundle to help you improve your communication and email writing skills.
This bumper bundle includes: My new ebook Communication 50, my video series Bite-Size Business Writing Tips, plus lots of useful checklists and infographics.
Watch the trailer
Watch my book trailer here and learn more about my new book, and how it can help you to navigate change and drive your own success.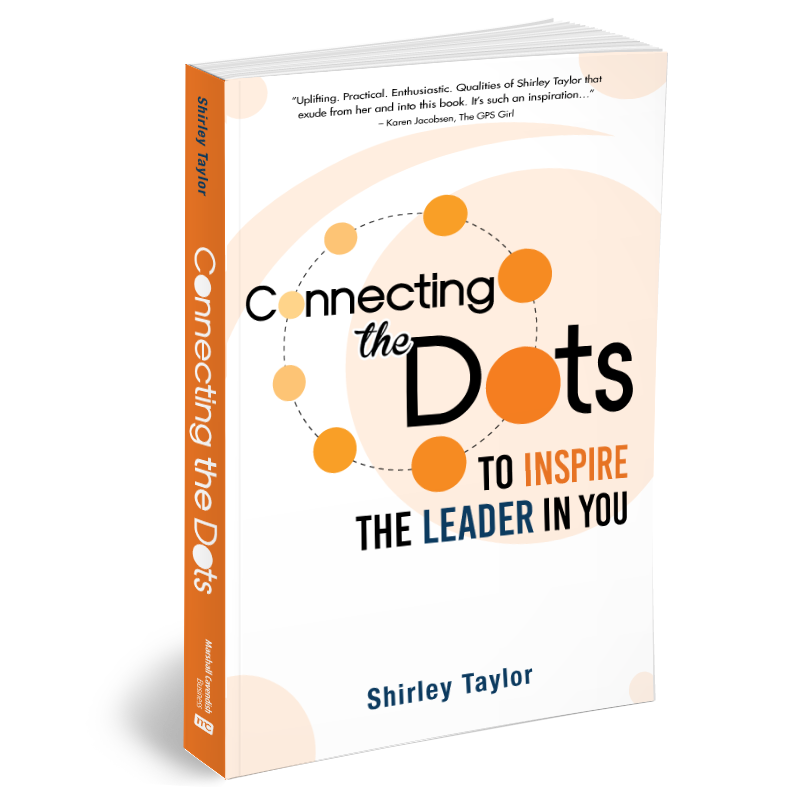 Shirley Taylor has inspired audiences around the world with her heart-warming stories and simple but powerful lessons. Now through the pages of this book, they will inspire readers to unlock their true potential and drive their own success.
In looking back at the significant turning points in her life, Shirley shares the key lessons that have helped her to grow both professionally and personally. She then 'connects the dots' to reveal the common thread that runs through all these turning points.
Shirley also includes inspiring insights from global leadership experts who share their own personal turning points and the lessons they have learned.
In the process of connecting her dots, Shirley provides down-to-earth advice and practical tools to help you to:
Step out of your comfort zone and navigate change.

Unlock your true potential and drive your own success

Stay positive during challenging times

Create new opportunities for growth and success

Grow both professionally and personally
Praise for Connecting the Dots
Meet Shirley
Shirley Taylor discovered the challenges of communicating across cultures when she left her UK home to teach in Singapore. There she developed a passion for helping others to communicate effectively.
Shirley has since worked in the Middle East and Canada, and for 18 years she ran her own training company in Singapore. Her speaking and training work takes her all over the world.
The author of 12 successful books on communication skills, Shirley has established herself as a leading authority in email and business writing skills. Her international bestseller, Model Business Letters, Emails and Other Business Documents (seventh edition) has sold over half a million copies and been translated into 17 languages.
Shirley is a trusted member of the global speaking community. She served as 2011–12 President of Asia Professional Speakers Singapore, and as 2017–18 President of the Global Speakers Federation.